Drupal 6 Attachment Views Guide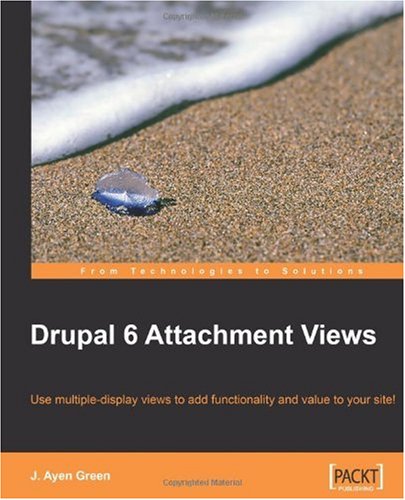 Use multiple-display views to add functionality and value to your site!
Quickly learn about painlessly increasing the functionality of your Drupal 6 web site
Get more from your Views than you thought possible
Topics provide rapid instruction and results
Concise, targeted information rather than voluminous reference material
An informal, interactive style
In Detail
The Drupal View modules give you the flexibility and freedom to customize the display of your web site's content. Defining custom content types is easy; however, it's also possible to use various content types in a complementary manner on the same page! Attachment displays in Views (also known as Attachment Views), are a way to customize your web site with multiple displays that interact with each other and turn a nice site into a spectacular one.
This hands-on tutorial will teach Drupal developers across the experience spectrum how to use Attachment displays in Views, to make quick progress in functionality and added-value to users! Views are a common way to display a collection of similar content types on one page. What do you do if you want to display different content types simultaneously? What if you want to allow a user to interactively select which content they want, without using a menu? You can actually have more than one display within a view and views within a view.
This book starts by introducing Attachment Views as reader activities. Here, we create a single Attachment View and take a closer look at giving each page an interactive feel. It also shows you to create a View with an Attachment View. Later, using practical examples, it helps you to develop a 3-view composite display using two and three custom content types. You will also be able to develop a composite display using multiple Attachment Views, to provide a control panel of sorts from which you can view the various content types. Finally, we will put the home page together making use of Views, blocks, a flash slide show, and other pieces.
This book provides several examples of introducing additional displays onto a web page, and having them interact with each other. The result is pages that provide several types of information and behave more like a desktop application, increasing the value to your site visitors.
What you will learn from this book
Provide more functionality to your site visitors without a technology change
Create composite displays to increase and vary the information you can provide
Enable dynamic displays using multiple content types, so that related content can be displayed simultaneously
Develop views with record menus
Create static and interactive displays, to provide additional information to the user
Approach
This is a fun, informative, hands-on learning guide. It uses a real case study in an interactive and informal manner, and presents examples that continue to build on each other. Clear, concise instructions and practical examples mean you can learn quickly how to increase the functionality and value of your web site.
Who this book is written for
If you are a Drupal developer of any level and you are waiting to explore Attachment Views, then this book is for you.
Price: $39.20
Buy Now from Amazon!
---