Drupal 6: Ultimate Community Site Guide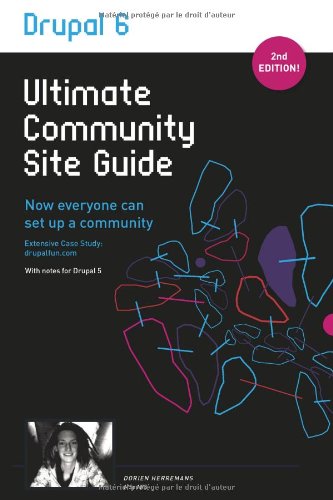 A large number of screenshots will guide the reader through the process of setting up a community site with the Drupal 5 or 6 framework. A number of popular topics, such as profiles, picture and video galleries, maps, messaging, groups, friends etc are discussed. Drupal is one of the best content management systems (CMS) around.
In fact, it has won the Best PHP 2009 Open Source CMS Award and is a 2009 Webware 100 winner for the third time in a row. For about 9 years now, Drupal has been providing users with one of the best and most versatile frameworks around. The reader will be guided through the different modules and configuration settings needed to build a solid community site. And we go even further, by looking at how to structure content and making a few $s from your site. It is going to be an exploration of modules and their features.
The main strategy of this book it to use only out-of-the-box, user contributed modules. So anybody can make a great site. This well thought strategy offers us the following advantages: 1. Easy to update. 2. Anyone can do it. 3. Expansive: at any time, you can install a module safely, to allow additional functionality. Every function will be explained using the fully integrated case study Drupalfun. Anyone can build a social networking site with Drupal after reading this book.
Price: $22.99
Buy Now From Amazon!
---