Drupal E-commerce with Ubercart 2.x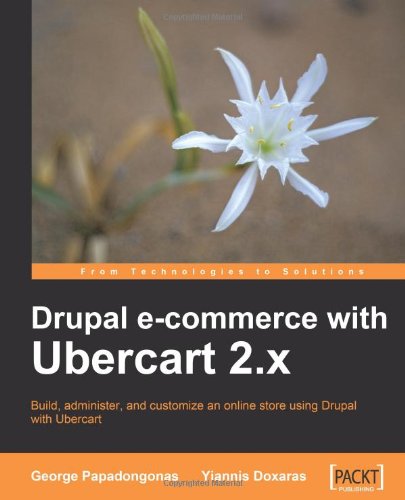 Build, administer, and customize an online store using Drupal with Ubercart
Create a powerful e-shop using the award-winning CMS Drupal and the robust e-commerce module Ubercart
Create and manage the product catalog and insert products in manual or batch mode
Apply SEO (search engine optimization) to your e-shop and adopt turn-key internet marketing techniques
Implement advanced techniques like cross-selling, product comparison, coupon codes, and segmented pricing
A step-by-step tutorial with an example-oriented approach with many screenshots to guide you through the book seamlessly
In Detail
Ubercart is an exciting open source e-commerce package that fully integrates your online store with Drupal. Ubercart leverages the advantages of Drupal's major core and contributed systems, providing your users with shopping cart functionality that integrates with other parts of your company or community web site. It can be used to sell shippable goods, downloadable products, recurring memberships, and event tickets, and to enable complex interactions with Drupal through various add-on contributions.
This book guides you through the process of creating, administrating and marketing an online store, providing information and tips for raising your sales and your customer support. It will also show you how to maintain and add advanced capabilities to your company's eShop.
If you are a merchant wanting to invest your precious time to update the online presence of your company, or a web site designer wanting to expand your business and offer innovative solutions to your clients, this book has been written for you. You don't need any programming experience to install and customize your electronic store. The procedure is well structured and easy and all we ask you to do is to follow some simple steps in order to complete some specific tasks in each chapter. The book will guide you through the installation and configuration of Drupal and Ubercart. From there it will cover specific areas like managing orders, customizing the frontend and user interface. At the end it covers the advanced topics of internet marketing techniques and Search Engine Optimization.
When you reach the end of the book, you'll have a working store and you'll have obtained all the required knowledge to customize it to your specific needs.
What you will learn from this book
Organize your store catalog with categories and subcategories, or with user generated free tagging to use the power of folksonomy.
Create products and product kits with a plethora of available information and multiple attributes.
Skip the time-consuming process of manually importing products by directly transferring from information from external files.
Create shipping quotes and connect your store with the biggest transport companies, like UPS or the United States Postal Service.
Create and manage simple or more complex tax rates.
Learn how to accept payments in as many ways as possible, and connect your store with payment gateways like Paypal or Google Checkout.
Manage your orders and your customers. Integrate with CiviCRM and put the customer at the heart of your business.
Track your store activities and sales and generate useful reports.
Use newsletters, forums, twitter, and corporate blogging to create a community around your products.
Transform any template or design in an Ubercart Theme and create a unique frontend.
Make your store more competitive and suggest new products to your clients with product recommendation systems, or cross-selling.
Enhance the user interface, improve the shopping cart, and manage prices and discounts.
Use Search Engine Optimization and Internet Marketing techniques to boost your traffic, but learn at the same time how to improve the performance and security of your store.
Approach
This book will take you through the basics, like Drupal and Ubercart installation and common settings, and as we proceed through the chapters, we'll implement more advanced techniques.
Whether you know Drupal or not, this book will be your guide to creating a powerful e-commerce web site.
Who this book is written for
If you are a business owner wanting to create an eCommerce website for your company or to upgrade a company eShop to be easier to maintain and have advanced e-shopping capabilities, then this book is meant for you. You don't need any programming experience to use this book.
Price: $39.99
Buy Now from Amazon!
---