CRE Loaded 6.2 osCommerce Users Manual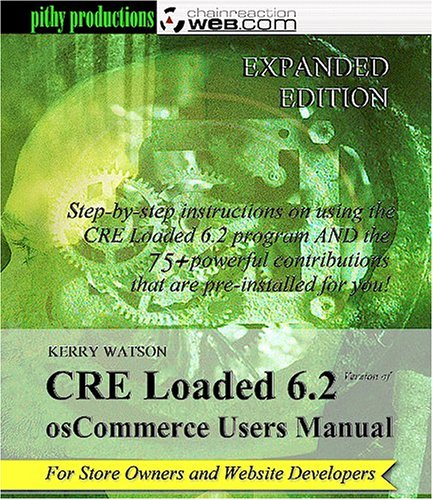 Got an idea for starting an online business? You can start an online business without knowing any programming, because with free CRE Loaded it's all done in your web browser. Just point and click to create your own shop, click to change templates, accept secure online credit card payments, click to set your shipping costs and publish your Internet shop. You don't need to know a thing about ecommerce solutions.
Fill in a form, and you have a beautiful home page with welcome text, in full-color html with pictures. Same to send a newsletter or emails to customers. It's easy and fun to run a full-service ecommerce website – NOT just an online shopping cart.
This book is a complete step-by-step guide to using the 75+ powerful add-on contributions that are pre-installed and tested for you in CRE Loaded 6.2 Version of osCommerce. You could start with basic osCommerce for free, work a year adding and testing contributions, and have maybe half of a CRE Loaded store. Or, you could get free CRE Loaded and this book, and make money right away.
Who is this book for?
Non-technical readers with little or no web experience who are interested in starting an easy-to-run online store to sell their merchandise or even start an online, home based business, or
Programmers or webmasters who want to turn out user-friendly ecommerce stores quickly and smartly, so your non-technical clients can easily take over their own online business without a hassle.
About this Manual:
Completely revised and expanded since the 6.1 Version, with over 350 NEW PAGES, including
Both the CRE Loaded Users Manual and the osCommerce Users Manual combined into one book
Covers FREE CRE Loaded Standard Edition, as well as PRO and PRO B2B EDITIONS (for large online business)
New, easy-to-use format with dozens of checklists
200 new, crystal-clear screenshots
Each task is rated for ease of use, experience, and time required
New chapter: Using Dreamweaver with CRE Loaded
New chapter: Taking good product photos and improving them with Paint Shop Pro or Photoshop
New chapter: Using Power Tools: FTP Programs, WinZip, and more.
About CRE Loaded:
CRE Loaded is an easy to use, free online shopping cart system plus a full-service website management program. It is the best online business you can start today, combining a basic osCommerce shopping cart with 75 add-on programs that do not come with basic osCommerce: Give gift certificates… Upload all your products with one click… Sell downloadable products like ebooks or music… click to connect your store to PayPal or other payment processors so your money is automatically deposited to your checking account… Affiliate Program or MLM… Make money with Google AdSense ads… Shopping cart hosting service with free installation… Search engine friendly shopping cart pages… plus about 60 more free programs. See the official website at store.creloaded.com for a full list of features.
About the ShowMe(tm) Guides Series
This exclusive quality seal is your guarantee that this book contains practical information that you can immediately put to use. Every instruction shows you exactly:
WHO has the right skill level to perform this task.
WHAT the task is.
WHY and WHEN you might want to do this – lots of examples.
WHERE – LOTS of good screenshots to show exactly what to do.
HOW – Exactly what to change from, exactly what to change it to.
The ShowMe quality seal also means you WON'T find page after page of filler. We know you're busy, and if you wanted a general book on Internet history or PHP Programming, you'd be reading that book instead of ours.
Price: From $118.01
Buy Now From Amazon!
---