ShowMe Guides OpenCart 1.5 User Manual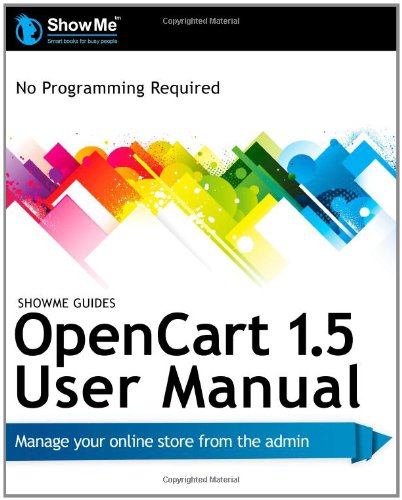 OpenCart 1.5 is a widely used eCommerce add-to-cart program. It has been used, criticized and has even faced competitions from other add-to-cart applications because of its free availability from the producers (open source). It is very easy to use for anyone having primary knowledge of developing a website and it also possesses numerous features and functions usually available in other paid applications. 'ShowMe Guides for OpenCart 1.5 User Manual' written by Mrs. Kerry R. Watson has a brief description of each of these features.
With this book, one can have not only an in-depth knowledge of the features but also becomes independent to run an online store of his own, maintain it with daily set up & updates. The biggest advantage of this book is that it has screenshots of every tips being described in it. Checklists and cheatsheets are also featured in the book. If one makes a change in the Admin, how it should look in the store can be checked though the screenshots. The book includes a quick tour in the beginning about how to install OpenCart in two minutes and how to get though the program in just 30 minutes. After going though these two chapters, a person with no technical idea would also be able to understand the basic features of the program.
The book takes care of everything, from scaling your logo to fit the looks of the store to setting up the products with proper view. A non-technical person can also operate efficient after going through the various chapters of this particular book. Security is one essential point regarding the payment. The store owner has to subscribe to an online transaction security provider. Show Me Guides OpenCart represents the technical security strategies in a non-technical way so that everyone can be careful about the security of their online store.
Advanced users or developers can customize the features as per their preference. The book describes how OpenCart provides sophisticated platform for multiple languages and currencies. Each and every feature regarding the modules and templates can be customized if someone knows the programming codes a bit. Each chapter emphasizes upon a particular part of the program. So, by reading all the chapters, one will have better feasibility and understanding of the scopes of online stores with OpenCart. Needless to say that the language used in the book is very simple and easy to follow.
Price: $26.39
---