Corvus phpBB Style, Responsive phpBB3 theme from RocketTheme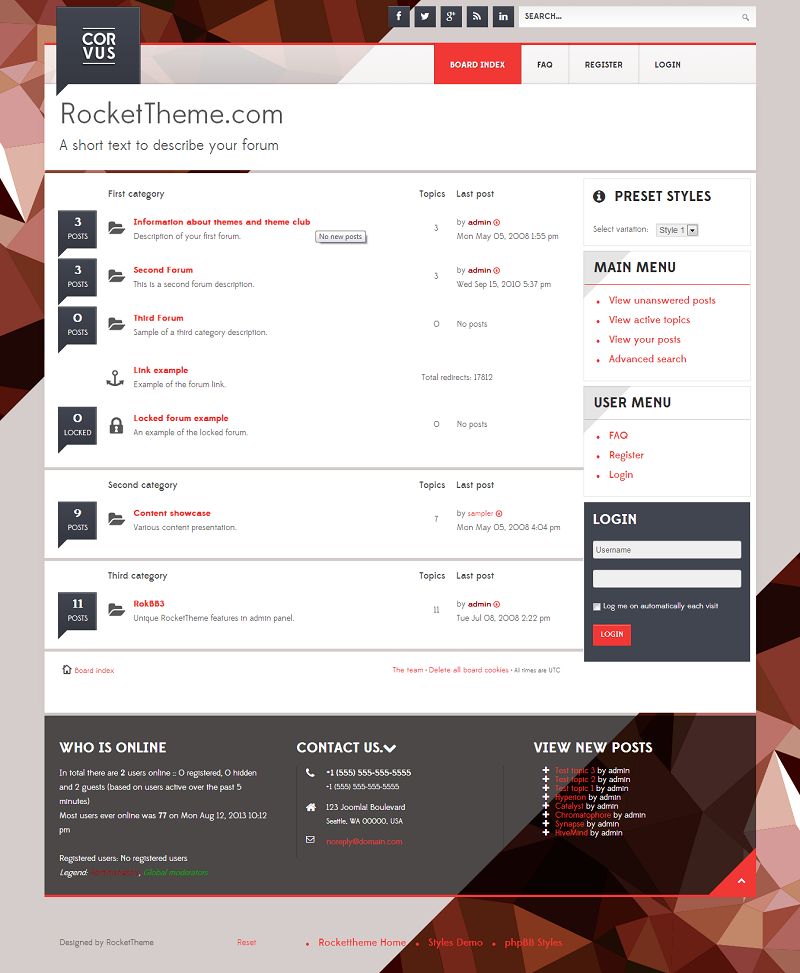 Corvus is content centric phpBB3 style, built with rich media and text blocks. This style spruces up your forum with easily configurable items. Integrated styling is provided for extensions in its various layout types, such as Tabs and Headlines. The style is based on the RokBB Framework and comes with a lot of useful features and functions.
Features:
WebFont based Imageset and Icons
Google Web Fonts Support
Responsive and Fixed Layouts
10 Styled & Numerous Structural Module Suffixes
RokNavMenu Exporter Support
RokBridge support
Demo settings applied automatically
8 Preset Styles
Tabs & Headlines Integrated
RokBB 5 Framework
phpBB 3.0.11 Compatible
Various Configurable Module Positions
LoadTransitions
Customizable layout options
FF, Opera, Safari 4, IE8+ Compatible
Purchase Options:
Join the RocketTheme phpBB Styles Club to download this style.
Get all of the 45+ professional phpBB3 Styles developed by
RocketTheme
for a small membership fees as low as $50
Tagged with: responsive phpBB style
---