WP Robot Wordpress Plugin - Automatically post Youtube Videos, Amazon Products, Yahoo Answers, eBay auctions, Clickbank ads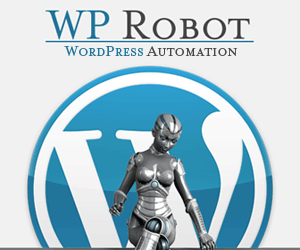 WP Robot is a powerful autoblogging plugin for WordPress. It allows you to autopost Amazon products, eBay auctions, Clickbank ads, Youtube videos, Yahoo Answers Q&A's, Articlebase articles, Flickr images and much more. With this plugin you can now automatically find content for any niche or keyword of your choice, translate, and create blogs full of engaging curated content. It comes integrated with support for spinning software that makes it possible to create automatic unique content.
The Most recent version, WP Robot 4 has been released with amazing new features. This gives the possibility to mix content from all modules together into posts, a new templating system and many new settings mean you can almost do anything!
WP Robot is easy to use and turns your blog on complete auto-pilot and drip-feed it with fresh keyword targeted content periodically. WP Robot Consists of 22 core modules and each explained below:
1. Amazon Module
The Amazon module creates blog posts for any product that is sold on Amazon and also adds all reviews found on the product page as comments to the post.
Automatically create Amazon product posts for any keyword you specify.
Earn money for any sale you refer through your posts through Amazon's affiliate program.
Display many different information in your product posts, including the product description, images, feature lists, number of reviews, average product rating, price and more
Support for all the international versions of the Amazon Affiliate program including the United States, Canada, United Kingdom, France, Germany and Japan
2. Article Module
The Article module will add keyword related articles from articlesbase.com or sooperarticles.com to your blog. You can add articles in English, Spanish, Portugese, French or Russian
3. eBay Module
eBay module adds recent and popular auctions from eBay to your blog on autopilot based on keywords you specify.
Earn money for any sale you refer through the eBay affiliate program.
Add up to 6 different auctions to a single post.
Select which eBay website to use (i.e. ebay,com, ebay.co.uk, ebay.de, etc)
4. Clickbank Module
The Clickbank module automatically post Clickbank ads on your weblog. You can earn money using the Clickbank affiliate program. This module is provided free with every copy of WP Robot.
5. Yahoo Answers Module
Yahoo Answers Module adds questions and answers to your blog on any topic automatically. The questions and answers will be retrieved from Yahoo Answers. The questions will be created as a post and all the answers to the question will be added as comments to the post.
Post questions from many international Yahoo Anwers sites: Choose between English, German, French, Spanish and Italian language.
Filter questions by Yahoo Answers categories.
Uses the official Yahoo Answers API (a free Yahoo Application ID is required to use this module).
6. Youtube Module
Youtube Module adds keyword targeted youtube videos to your blog on autopilot.
Retreives up to 25 Youtube comments and adds them as comments to your blog posts.
Editable post template: Specify exactly how posts will look on your blog, include the description, a video thumbnail, the rating or more!
Over 30 languages available
7. Translation Module
Translation Module translates any content created by other WP Robot modules into many languages by using its powerful multi-translation feature. It can use either Google Translate or Yahoo Babelfish or a random combination of both
Works together with all other content modules (except the eBay module)!
Can translate posts in 9 different languages.
By translating multiple times (i.e. from English to German to English) it can also create instant unique content!
8. Flickr Image Module
Flickr Image Module adds screnshots, images and other media on any topic from Flickr.com to your weblog automatically.
Uses the official Flickr API (a API key is necessary to use this module).
Create posts exactly like you want them to look with the templating option.
Many customizable options, including choice of image size, licensing and sort mode.
9. Yahoo News Module
Yahoo News Module retrieves content from yahoo news and posts to your weblog automatically.
Choose from many different languages, including English, German, French, Spanish and Italian.
Uses the official Yahoo News API (a free Yahoo Application ID is required to use this module).
Add up to 5 news stories in a single WordPress post.
Many other customizable options.
10. RSS Module
The RSS module allows you to add any RSS feed you can find to WP Robot and the plugin regularly posts all its content to your weblogs.
Post targeted content from any RSS Feed you can find to your weblog on autopilot.
Posts the full article of the RSS feed (and not just a short description) if available!
If the module finds any it will also add all the comments available in the RSS feed (i.e. for WordPress blog feeds).
11. Commission Junction Module
The WP Robot Commission Junction Module allows you to post product and listing data to your weblog on autopilot and earn great commissions from every sale you refer to one of the many merchants.
Automatically post products from any Commission Junction advertisers and partners to your weblog.
Earn money from your weblog using the Commission Junction affiliate program
Powerful template options allow you to specify exactly how you want your posts to look.
Many settings to customize the products that get posted to your blog!
12. Oodle Module
The Oodle Module allows you to access all of classified listings from Oodle.com by using their official API program and post it to your weblog automatically!
Automatically post classified listings by oodle.com to your weblog
Post exact listings from specific locations, i.e. cities, ZIP codes and more!
Many settings, including support for 5 countries and category selection.
13. Shopzilla Module
The Shopzilla module allows you to add products and include comparison shopping content for your visitors on your blog automatically from the vast database of Shopzilla website.
Automatically post comparison shopping content by Shopzilla on your weblog
Earn money from your weblog through the Shopzilla publisher program
Add the results to any other WP Robot modules, for example to include price comparisons with your Amazon products.
14. Press Release Module
The Press Release module allows you to post all press releases available on PRWeb.com to your weblog on autopilot.
15. Twitter Module
The Twitter module allows you to add all content available on twitter.com and easily include any "tweets" related to your blogs niche into your weblog. It is free and automatically included in every copy of WP Robot.
16. Linkshare Module
The Linkshare module allows you to automatically post products from advertisers you choose on Linkshare's huge affiliate network to your site in order to earn affiliate commission.
Huge amount of products and advertisers in different niches to choose from.
Earn commission for every sale you refer. Another monetization method for your blogs!
Uses the official Linkshare API. A Linkshare account is required to use this module
17. Eventful Module
The Eventful module uses the Eventful API to autopost targeted events related to your keywords to your weblogs – could be music concerts, local city festivals or anything else
18. iTunes Module
The iTunes Module can access the complete iTunes store by Apple and post anything that can be found in there to your weblogs on autopilot, no matter if it is a song, album, app or movie. Many customizable settings are available to find exactly the content you need on your site.
19. Yelp Module
Yelp module for WP Robot you can access this data through the official Yelp API and add it to your weblog. You can target reviews from any region, city and keyword you need.
20. ShareASale Module
The new ShareASale module for WP Robot can read the content from any merchant datafeed provided by the hundreds of vendors on shareasale.com you upload to your website and post its content on your blog automatically, giving you access to many thousands of products as new content from which you will also earn affiliate commission!
21. Avantlink Module
The WP Robot Avantlink Module helps you to autopost your blog with the product feeds from Avantlink affiliate network. You will earn affiliate commission for each sale you refer through the Avantlink partner program, adding yet another valuable source of automatic income to your autoblogging network!
22. PLR Module
The WP Robot PLR Module allows you to post your own PLR (private-label-right) content to your autoblogs by simply dropping it in a folder of your website and have WP Robot do all the dirty work automatically.
General Features:
Create posts related to your weblog's topic,
You can have 20 active keywords in the basic version and 50 keywords in the advanced of WP Robot simultaneously. The elite version even allows an unlimited amount of keywords.
Add created posts to any category of your WordPress weblog
Custom time intervals between posts
Free Support via the WP Robot support forum
Free updates included with every order
Partial list of New Features added to WP Robot version 4:
Replace keywords in posts with other keywords or links of your choice, for example for SEO purpses.
Open outgoing links in a new window.
Set up global exclude keywords which apply for all your campaigns.
Star images as rating in the Amazon Module
Buy Now buttons for the Amazon Module
Display Amazon reviews and Yahoo Answers answers in the post instead of as comments (or both!)
Split article posts into several pages with a new option.
Use proxies with the translation module
If you want you can only translate a certain amount of posts.
Randomize the number of comments per post.
Detailed error handling settings.
Choose to use a Unix cron job instead of the WordPress pseudo-cron for better accuracy and control.
Set up any number of "Post Template Presets" to simplify campaign creation.
Quick campaign setup buttons to create complex campaigns with the click of a few buttons only.
Add custom fields to all your posts, for example to use thumbnails with your premium themes.
And more!
Use the Coupon Code SPROBOT or WARRIORROBOT to get $40 off on the WP Robot Full (elite) version (That is you will get WP Robot for just $129 instead of $169)
Tagged with: amazon autopost plugin , article autopost plugin , ebay autopost plugin , press release autopost plugin , wordpress autoblog plugin , wordpress autopost plugin , wp robot autoblogging plugin , youtube autopost plugin
---