Advanced SEO for x-Cart Module from MagneticOne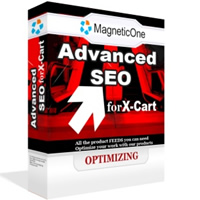 Advanced SEO for x-Cart is a better SEO module that is more powerfull, faster and has other advantages. This is a powerful replacement for standard X-Cart static catalog with unique features for best Search Engine Optimization of your site. With help of this X Cart Mod you will be able to fully control view of categories and products urls by inserting appropriate keywords.
This module is a complete SEO solution for your website! It satisfies ALL SEO needs of the store – nothing else required for your store to be SEO-friendly.
Advanced SEO X-Cart Mod Features:
totally removes dynamic links for categories, products and static pages links
creates static links for best search engine optimization
powerful management of keywords is used in all links for categories, products
no additional "pr-9-c-4" symbols in your links (best on the market)
dynamic updates for all your links, no need to regenerate it manually
uses folders instead of .php for all links
ability to add additional keywords as subcategory for categories and products links
completely supported by X-Cart Google Sitemap module
supports news pages (included out of the box)
supports static pages (included out of the box)
Price: $125.00
---