Like or Share to Download - Joomla Component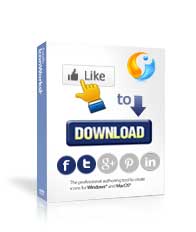 Like or Share to Download is a Social Payment extension for Joomla. It helps you to generate greater business exposure by getting more followers or likes or shares on social media. This extension blocks the download button until the user makes a social payment (your user likes or shares your page on social sites). You can enable any products sales or files (exe, pdf, images, videos, etc.) distribution for Liking your Facebook, Twitter and other social media brand page or sharing it with friends and peers. Start now to grow the number of your Social Media fans for your products, services, company and brand.
Features:
Supports Facebook and Twitter (Google+, LinkedIn and Pinterest are coming soon)
Customizable welcome texts
Create Download Buttons On the Fly
Facebook fans page statistic
Compatible with Joomla! 2.5
Compatible with Firefox, Safari, Google Chrome, Opera, Internet Explorer.
Price: $19.00
---