Shopping Cart Error Handler Module from MagneticOne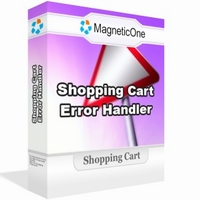 Shopping Cart Error Handler is utility to catch ALL store technical errors and warnings, save them in single log file and notify store owner about them in timely manner.
Dealing with technical errors and warnings is part of any online business. It happens always, every single day. Ability to know about problem is half way of fixing it.
Shopping Cart Error Handler was specially designed for osCommerce, CRE Loaded, Zen Cart and X-Cart but should work with ANY PHP application.
Shopping Cart Error Handler benefits:
Fix Errors Proactively
You can fix errors quickly, before they bring larger problems as a result
Hide Technical Error Messages from Your Customers
Customers don't like errors, hide non-critical errors from your customers, while notifying your technicians
Send Technical Errors Right to Your Technical Persons
You don't need to deal with every error – your technicians are notified now right then problem appears – able to act almost instantly
Improved Security
Technical errors are initial part of 90% of hacking attempts
Now you know right when somebody is trying to do something wrong
Later you will be able to track security problems using single Error Log
Timely Error Notifications
Now you know about ALL problems, able to fix them right in time, right when they appear. No more hundreds of error email in your mailbox. You will receive notifications via email, every period of time (hourly by default)
Capture ALL Technical Errors and Warnings in One Place
Now you have single place to see all technical errors, no need to check manually it via hosting control panel or error logs
After using this utility for few months for our own store and few customer stores – we found that this is MUST HAVE utility for ANY online store.
Shopping Cart Error Handler features:
Easy and Quick to Install
You will need to insert single line of code – that's it.
Completely Configurable
We added multiple configuration directives – for most usage scenarios
Open Source
You can change it if necessary to suit your specific needs
Send Error Messages
to File, by E-mail or Standard Error Log
Enable/Disable easily
Enable disable Error Handler with single line of code
Limit your error handling
Define files to catch errors in, leaving others as is, good when dealing with bad programming methods
Price: $50.00
---