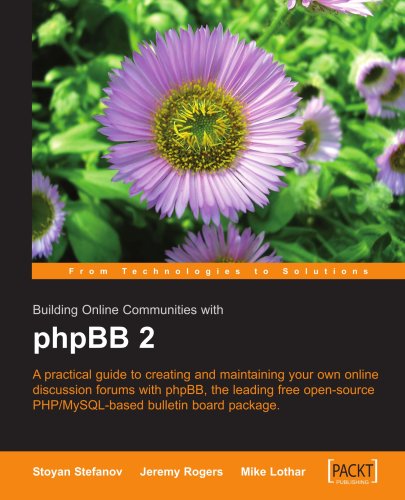 A practical guide to creating and maintaining online discussion forums with phpBB, the leading free open source PHP/MySQL-based bulletin board
Simple, practical steps to build and customize your own phpBB-powered online community
Learn from experienced phpBB administrators and enthusiasts to get the most from phpBB
Full coverage of powerful features including customization, administration and developing your own modifications
In Detail phpBB is a free, open source Internet community application, with outstanding discussion forums and membership management. Written in the PHP scripting language, and making use of the popular MySQL database, phpBB is a standard among web hosting companies throughout the world, and is one of the most widely-used bulletin board packages in the world. phpBB short-circuits the need for you to be a web development master in order to create and manage massive online communities.
phpBB handles sites of all sizes, the largest known phpBB-powered site on the Internet handles over 1.5 million members and has 191 million posts to the forums!
The book begins with the initial installation and configuration of phpBB on your system, with troubleshooting tips to help you through. You will then go on a tour of phpBB and its features, stepping you through the basic tasks, growing your understanding and familiarizing you with the power of phpBB.
Everybody wants their community to look special, and customizing your forum is the next stop in the book. Beginning with a detailed rundown of styles and themes, you will then see how to customize your forum by first modifying existing styles, adding new elements, and even creating a new style from scratch.
The book then goes onto cover further administration of your community, creating hacks or "modifications" for phpBB, custom PHP programming with phpBB, and reference appendices with more phpBB resources, the phpBB file and directory structure, guides to the BBCode and permission systems, and the phpBB database structure round off this book.
What you will learn from this book? This book will give you the skills to setup your own phpBB-powered discussion forum and online community. You will learn how to create, customize, and manage your own phpBB-powered community.
Install and configure phpBB
Learn the basics of working with phpBB forums
Manage topics, postings, smilies and users
Understand phpBB themes and styles
Customize the look of your phpBB site
Master forum permissions to protect your community
Create a phpBB theme from scratch
Creating a phpBB modification
Packaging and making your modification available to others
Custom programming of phpBB
Approach
This book takes a practical, hands-on approach to phpBB. Packed with sections stepping you through tasks, this book is the ideal guide to learning phpBB. Reference appendices make this a really comprehensive source.
Who this book is written for?
This book is written by phpBB enthusiasts for new and intermediate users. It's ideal if you are just starting with online communities and want a powerful and free tool, or if you've already started with phpBB and want to take it further. Anyone with a basic knowledge of HTML and a willingness to learn about phpBB will benefit from this book.
Price: $31.57
Buy Now From Amazon!