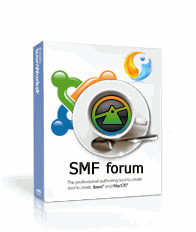 SMF Bridge will allow to unite your SMF forum (version 2.0) with Joomla without modifying Joomla/SMF core files unlike other 3rd party SMF Bridges and you'd like to have the opportunity to upgrade your Joomla in future then this SMF Joomla bridge component should suit you perfectly.
This joomla component gives an opportunity to perform two-way users synchronization.
Features:
Joomla administrator can transfer existing users from SMF to Joomla
SMF new users will be added automatically to Joomla after Joomla authorization using SMF username/password.
Joomla existing/new users are added automatically to SMF after Joomla authorization.
Pricing:
Single Usage – $49.00
Unlimited Usage – $69.00