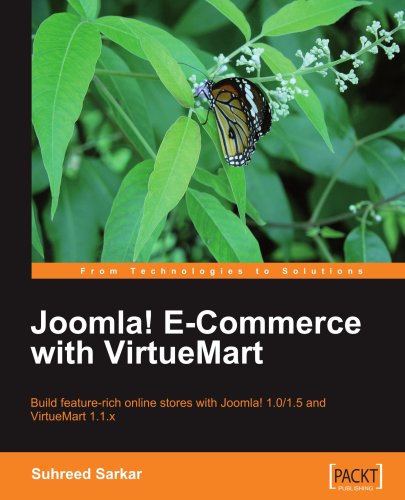 Build feature-rich online stores with Joomla! 1.0/1.5 and VirtueMart 1.1.x
Build your own e-commerce web site from scratch by adding features step-by-step to an example e-commerce web site
Configure the shop, build product catalogues, configure user registration settings for VirtueMart to take orders from around the world
Manage customers, orders, and a variety of currencies to provide the best customer service
Handle shipping in all situations and deal with sales tax rules
Covers customization of site look and feel and localization of VirtueMart
In Detail
VirtueMart is a widely used component for adding e-commerce to a Joomla! site. VirtueMart covers all the aspects of e-commerce in an easy-to-use fashion and allows administrators to configure the various factors such as those of the shop, selling workflow, payment, products, and more. It also has many other features, which include managing customers and orders, so that every aspect of the shop is handled on-line for your comfort.
This book demonstrates the setting up of an on-line Joomla! e-commerce site from scratch using VirtueMart. It focuses specifically on e-commerce and VirtueMart. It teaches all the aspects of quickly setting up a feature-packed, easy-to-build e-commerce site–from basic installation and configuration of Joomla and VirtueMart through adding features step-by-step to an example web site to deployment.
The book begins with an introduction to VirtueMart with an explanation of its capabilities and how you can use it to earn money from your Joomla! site. This is followed by the necessary installation and configuration of Joomla! and VirtueMart to enable you to lay the foundation of your web site. Then it explains configuration of the VirtueMart store, which includes payment and shipping methods, configuring zones, and currencies.
The book then looks at managing products, customers, and orders, and customizing the web site appearance, all through demonstration so that you can build your own store with minimum effort, investment, and time. It also illustrates the promotion and public-relations factors such as banner ads, featured products, coupons, and more, so that you can build a wide customer base. It follows this up with examples of more advanced features such as localization and using extensions for bulk import/export of products to your VirtueMart shop, to suit your individual store needs. Maintenance, troubleshooting, and security, which are essential for running your site, are also explained. There is also an Appendix provided for configuring shipping and payment modules.
What you will learn from this book?
Install/Uninstall Joomla! components, plug-ins, and modules; install the VirtueMart component and its modules, to start building your store.
Configure the shop, create and use the appropriate zones and currencies, configure payment methods, shipping methods, and taxes, which form part of the most essential shop functionalities.
Manage manufacturers and vendors, products and product categories, and watch your VirtueMart shop take real shape with the products you want to sell.
Configure user registration settings for VirtueMart, manage users and user groups, create and use order status types, view order statistics and order details, update orders, and manage inventory, which will ease your apprehensions about customer service.
Install and configure new themes, customize the Joomla! template, customize VirtueMart themes and layouts, and use search engine friendly (SEF) URLs to attract more customers to your shop.
Use VirtueMart's promotional tools such as banner ads, specials, featured products, newsletters, product notifications, and more, which are important factors in determining the success of your business.
Add further value to your shop by using different regions and region-specific taxes, multiple currencies, installing new languages, and translating the language of the site.
Learn to add third-party extensions to further broaden VirtueMart functions for bulk import/export of products to your shop catalogue, update multiple product information at the same time using AJAX, and display slideshows with product images to spice up your shop further.
Finally, learn to move the shop to your server, to back up and restore files and databases, and also about security, maintenance, and troubleshooting as a final step to complete your brand-new VirtueMart shop!
Approach
This is a step-by-step tutorial-style guide, which teaches you to build an e-commerce site through a complete practical example.
Who this book is written for?
Are you a Joomla! user who wants to build an e-commerce store? Do you have a Joomla! site and want to add e-commerce to it to sell products? Then this book is for you! The pre-requisites are simple. You should already know how to build a site with Joomla!, have a smattering of CSS/HTML and perhaps some PHP.
Price: $39.50
Buy Now from Amazon!