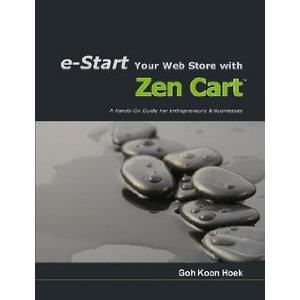 Looking to set up your own online store to sell your service or product?
Join the growing number of satisfied store owners who have done so with the free, open source, and powerful Zen Cart shopping cart software.
Targeted at the average computer user with no programming knowledge, you will learn to use Zen Cart to:
– set up an online store on your local PC for testing and familiarizing yourself with the software.
– use an assortment of marketing tools and techniques to attract and retain customers.
– set up online and offline payment options to make purchases easier for customers.
– set up multiple shipping options to meet the delivery demands of customers.
– incorporate additional languages and multiple currencies to cater to a global customer base.
– and many, many more.
If you are completely new to Zen Cart, like having a printed manual to help guide you, and have some extra money, this book is a nice way to get started. But if you already know your way around Zen Cart, don't even bother.
The author provides a guided tour of Zen Cart's admin panel. This book is huge and does a great job explaining how each feature on the admin menu works, like adding and organizing the product catalog and managing the customer database. It also explains how to connect Zen Cart to the various payment systems, like PayPal and Authorize.net.
However, the book does not provide sufficient information on how to edit the design templates and leaves it up to reader to poke around the numerous configuration files to figure out how to change Zen Cart's default design. There are no "getting-started" tutorials. Fortunately, if you want to learn how to change the look and feel of your Zen Cart project, there is a very helpful Zen Cart developer community and the Zen Cart website does have information on editing templates.
Still, it would be have nice if there was just a few pages explaining Zen Cart's templates. Hopefully, there will be other Zen Cart books in the future that will cover design more than this guide, which is nothing more than a thick printed help file.
Price: $42.00
Buy Now from Amazon!