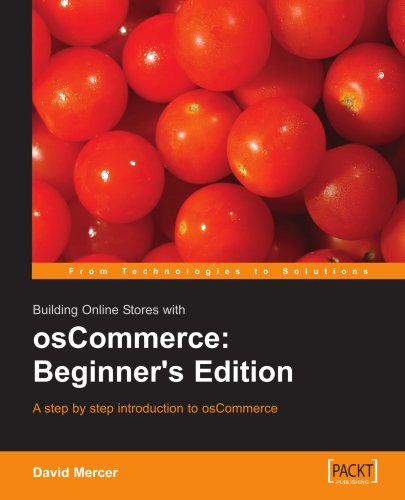 A step by step introduction to osCommerce.
A step by step introduction to osCommerce
Install and configure osCommerce
Build your first ecommerce website
A special Beginnner's edition of the complete
In Detail
Using an easy-to-read and engaging style, this book introduces the fundamentals of osCommerce, and helps you build your first online store. It covers the out-of-the-box features of osCommerce, but it also shows you how to customize the application to your own needs.
The book starts with the basics of downloading and installing osCommerce, or simply how to enable it on your Internet domain using the tools provided by your host. All of the most important configuration issues are explained, with clear instructions and advice to help you make the right choices.
Once osCommerce is installed and configured, you will take a good look at how to work with your store's data including product information as well as other data which is responsible for keeping your site healthy.
The all important topic of customization is also dealt with comprehensively. You will see how to develop attractive sites that will make your store a pleasure to browse and your products a pleasure to buy!
Of course, no discussion on osCommerce would be complete without a look at how to obtain and treat payments. Using the modules provided with osCommerce you will be collecting money from your happy customers in no time!
Once the reader has a fully fledged, and operational site it is time to look at deployment an important topic for discussion if development has taken place on a development machine.
The appendix will add a few tools to your armory and shed some light as to what is going on behind the scenes in case things go awry.
Who this book is written for?
This book is written for:
first time users of osCommerce
current osCommerce who would like to further customize their websites
anyone who would like to quickly build a website for their online business
Price: $26.99
Buy Now From Amazon!