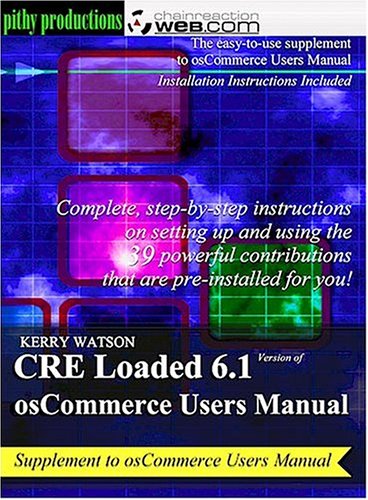 Run a full-featured online store without knowing any programming whatsoever, using the powerful FREE version of osCommerce developed by Chain Reaction Web called CRE Loaded 6.1 Version of osCommerce.
This users manual is a complete, step-by-step guide to setting up and using the 39 powerful contributions that are PRE-INSTALLED AND TESTED FOR YOU in this popular and FREE new CRE Loaded 6.1 Version of osCommerce. Why struggle to incorporate and debug a few contributions when you can have everything pre-installed and tested for you?
Note: this book covers only the special features (or "contributions") that are not part of the basic osCommerce program. For a user's guide to the basic features of osCommerce, see the osCommerce Users Manual.
WHO THIS BOOK IS FOR:
Non-technical store owners with little or no web experience, OR programmers or web designers who want to turn out osCommerce stores quickly and smartly, and have your non-technical clients maintain them with a minimum of hassle.
WITH CRE 6.1 LOADED OSCOMMERCE, YOU CAN EASILY:
Change the look and feel of your site to one of four different templates with just a click (TIP for designers: to design a custom template, find the template closest to the look you want and customize that)
Use the easy page editor to edit Home, Contact Us, Shipping, FAQ, News, Coupons, Email, Newsletters with photos and special fonts
UPLOAD batches of products, edit them in Microsoft Excel(tm)
Password protect your site
Let customers purchase without registering
Give gift certificates and coupons
Suggest related purchases
Get a monthly SALES TAX Report
Show customers multiple views of product pictures
Let customers add your products to a wish list
Set special pricing on all, some or a single product
Automatically install payments for EFS.net, PayBox, GetTrust, SkipJack, even PayPal IPN
Let customers specify their choice of Shipping: FEDEX, UPS or USPS
See all Admin links on the main admin page
Have search engine-friendly list on one page
Set down for maintenance to stop purchases during maintenance
Control product downloads
Back up the largest databases
Add new orders and new customers
Make extra money with Google AdSense ads
Sell your products and pay commissions with Affiliate Program and much more; this list has only twenty-one of the 39 special features included.
SECTIONS INCLUDED IN THIS BOOK:
Includes how to SET UP your store using FREE CRE Loaded 6.1 version osCommerce
How to MANAGE your store using CRE Loaded 6.1 osCommerce
COMPLETE INSTALLATION INSTRUCTIONS for CRE Loaded 6.1 osCommerce.
Price: $18.69
Buy Now From Amazon!