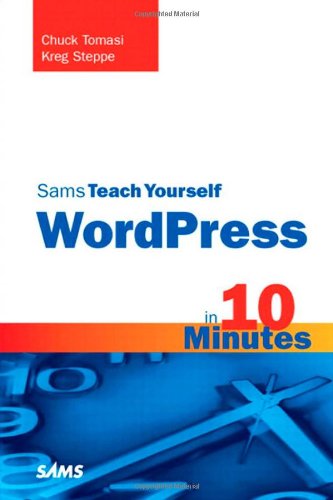 Sams Teach Yourself WordPress in 10 Minutes offers straightforward, practical answers when you need fast results. By working through quick, 10-minute lessons, you'll learn everything you need to know to take advantage of the WordPress encyclopedia[md]and all of WordPress's incredible resources.
Coverage includes quickly building blogs for free using WordPress.com; managing blogs from the Dashboard; customizing blogs to fit your message; creating more powerful text and media content; attracting visitors via search engine optimization; moderating comments and building communities; setting up RSS feeds; hosting your own blog with WordPress.org software; earning ad revenue; using analytics to measure blog performance; integrating with Twitter and social networking sites; delivering content via iPhone and BlackBerry; streamlining publishing with third-party tools, and much more.
Most of this book's instruction is presented in easy-to-follow numbered steps, and it's packed with examples and screenshots to show you what things look like along the way. Tips offer insider advice and shortcuts, and Cautions help you avoid problems. Making the most of WordPress has never been this easy!
About the Author
Chuck Tomasi is an IT Manager for Plexus Corp, an electronics company headquartered in Neenah, WI. He has 30 years of IT experience in a broad variety of topics. His book Podcasting for Dummies ranked #1 in Bookscan on podcasting. He is a regular contributing writer to Friends In Tech, and Tech Talk for Families blogs. Kreg Steppe has 20 years of experience as an IT professional. Currently working as a Web Developer, he has 10 years experience with web technologies including HTML, JavaScript, PHP, MySQL, Apache and IIS. In 2005 Kreg and Chuck launched Technorama a weekly tech/science podcast which was a finalist in 2 categories at the 2007 Parsec Awards for podcasting excellence.
Price: $10.19
Buy From Amazon!